In this Tutorial, I will attempt to explain some basic aspects of Halo hacking (with emphasis on the PC version), for those who are completely new to it. For this reason, this tutorial maybe be too slow for some, but I wanted to help people *start* exploring Halo Hacking. Once people have started hacking, there are places like halomods.com, and halo-mods.com that discuss advanced hacking techniques and applications. Also, I will explain how to take HUDless screenshots so people can start that as well.

Here are the topics I will be discussing.
PPF Patches
* Helpful Halo Hacking Tool ver. 1.3
* PPF-O-MATIC 3
Halo Map Tools 3
* How to Swap Characters, Weapons, Bullets, and Character for Bullets.
Trainer
* How to install Halo twice.
* How to use Outcast's Trainer.
Taking Screenshots
* How to remove the HUD
* Tips and Tricks for some good screens.
Before you try your hand at hacking the maps, each map in Halo has a code name for it. Here is what you will find in your Halo\MAPS folder.
Single Player
-------------
a10.map - Pillar of Autumn
a30.map - Halo
a50.map - Truth and Reconciliaton
b30.map - Silent Cartographer
b40.map - Assault on the Control Room
c10.map - 343 Guilty Spark
c20.map - The Library
c40.map - Two Betrayals
d20.map - Keyes
d40.map - Maw
Multiplayer
-----------
beavercreek.map - Battle Creek
carousel.map - Wizard
putput.map - Chiron TL34
All other MP maps are self titled.
Ok, now let's begin.
PPF Patches
For this tutorial, you will need the following:
* PPF-O-Matic 3
* Helpful Halo Hacking Tool 1.3
* BOLL's PC Retail PPFs
* WinRAR (ver 3.30+)
PPF stands for Playstation Patch File. It started as a patch used to hack playstation games, but the method works for almost any type of file that needed to be patched. In Halo, PPF patches are applied to the .map files that are under the MAPS directory.
With PPFs, it's possible to change many things in Halo. Some examples are, change Marines to Spartans, or increase speed of a vehicle etc. A good source of PPF patches is located on BOLL's site. He has patches for NTSC Xbox Halo, PAL German Xbox Halo, PAL Xbox Halo, Halo PC, and the Halo demo. Unload all the PPFs into the Halo\Maps folder. Example: C:\Program Files\Microsoft Games\Halo\MAPS\PPFs.
In this tutorial, I will keep the focus on Halo PC, but you can follow the same steps for Halo Xbox, once you have the cache files from the Xbox.
There are currently two utilities you can use to apply PPF patches:
1. PPF-O-Matic 3.0.
2. Helpful Halo Hacking Tool 1.3 by Extion, HHHT1.3 for short.
Installation is simple, you just unzip them in a folder. I will attempt to demonstrate how both can be used.
PPF-O-Matic 3.0
This software is very simple to use, but the downside is that it's tedious to apply multiple patches at the same time. Nonetheless, simplicity can be a very good thing sometimes, so I will demonstrate how use it here. Also, in the following tutorials, I will use this program to explain how to patch. Once you know how to use HHHT 1.3, you could use that as well.
First, determine which level you would like to patch. Let's say we want to patch Silent Cartographer (b30.map). Now think about what you want to do, say convert Marines to full functioning Spartans.
* Open up PPF-O-Matic 3, and select the b30.map for the ISO file.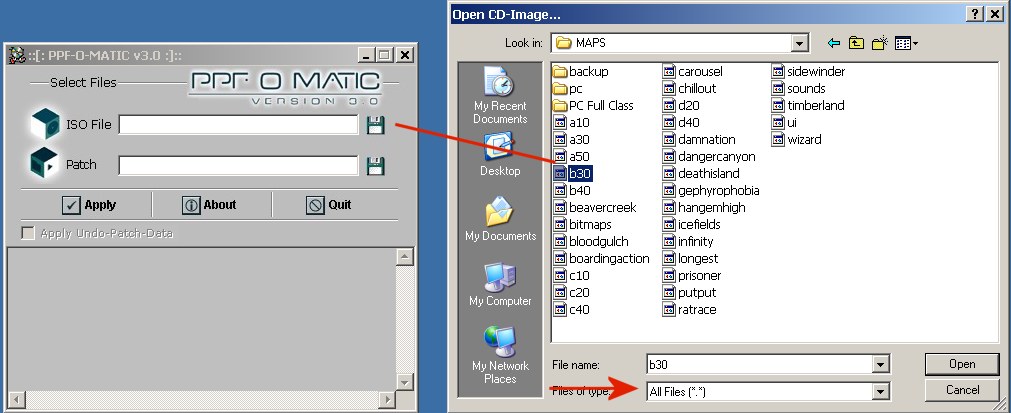 Select the Patch, b30_the_silent_cartographer-marines_to_spartans.ppf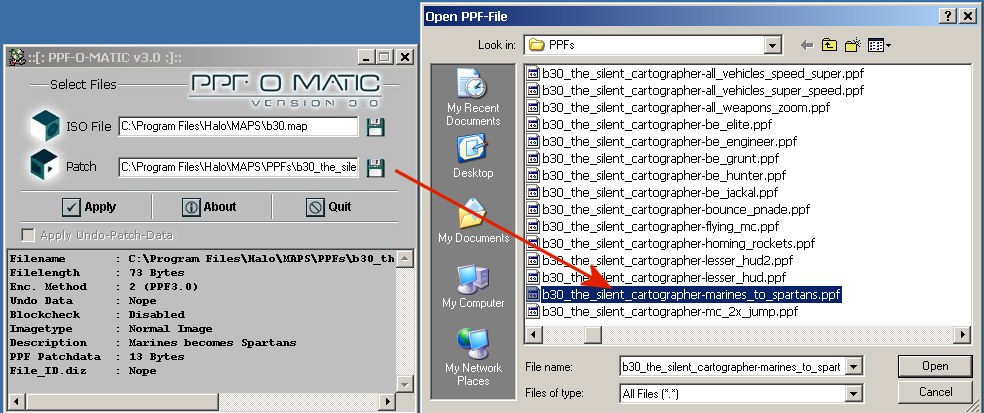 Click Apply, and you're done. You should see this message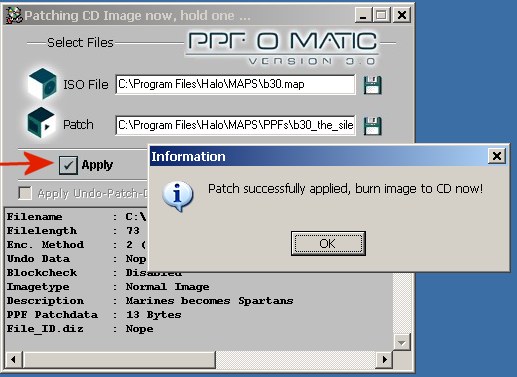 Helpful Halo Hacking Tool 1.3 by Extion.
Now we will attempt the same thing in HHHT1.3, except we will apply two patches at once. This software can look complicated at first, but once you set it up, it's a great tool. We will apply Marines to Spartans patch, and a Homing rockets patch.
Configuring HHHT1.3:
Before you start patching away, you need to specify where all the required files exist, and also a backup folder where backups of your maps should be saved.

As you can see in the picture above, I've selected the appropriate folder for Maps, Mods and Backups. Your path might be C:\Program Files\Microsoft Games\Halo, so choose carefully. Once you have that set up, you can start applying patches.
Select Map. Once you select the map on the left side, all the patches that are available for that level in the mods directory will be listed on the right.
* Now, select b30_the_silent_cartographer-marines_to_spartans.ppf, and click Add Selected.
* Repeat once again with b30_the_silent_cartographer-homing_rockets.ppf, and click Add selected.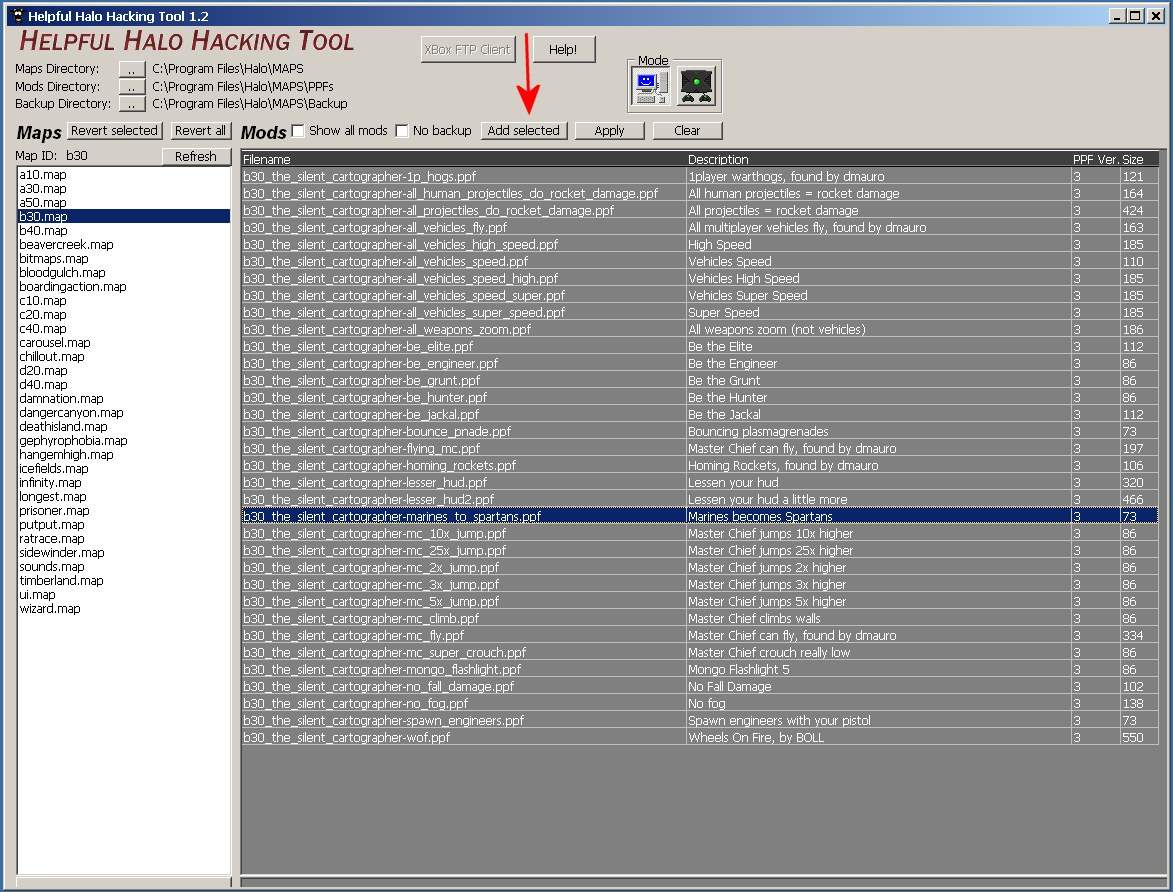 * Click Apply and you're done.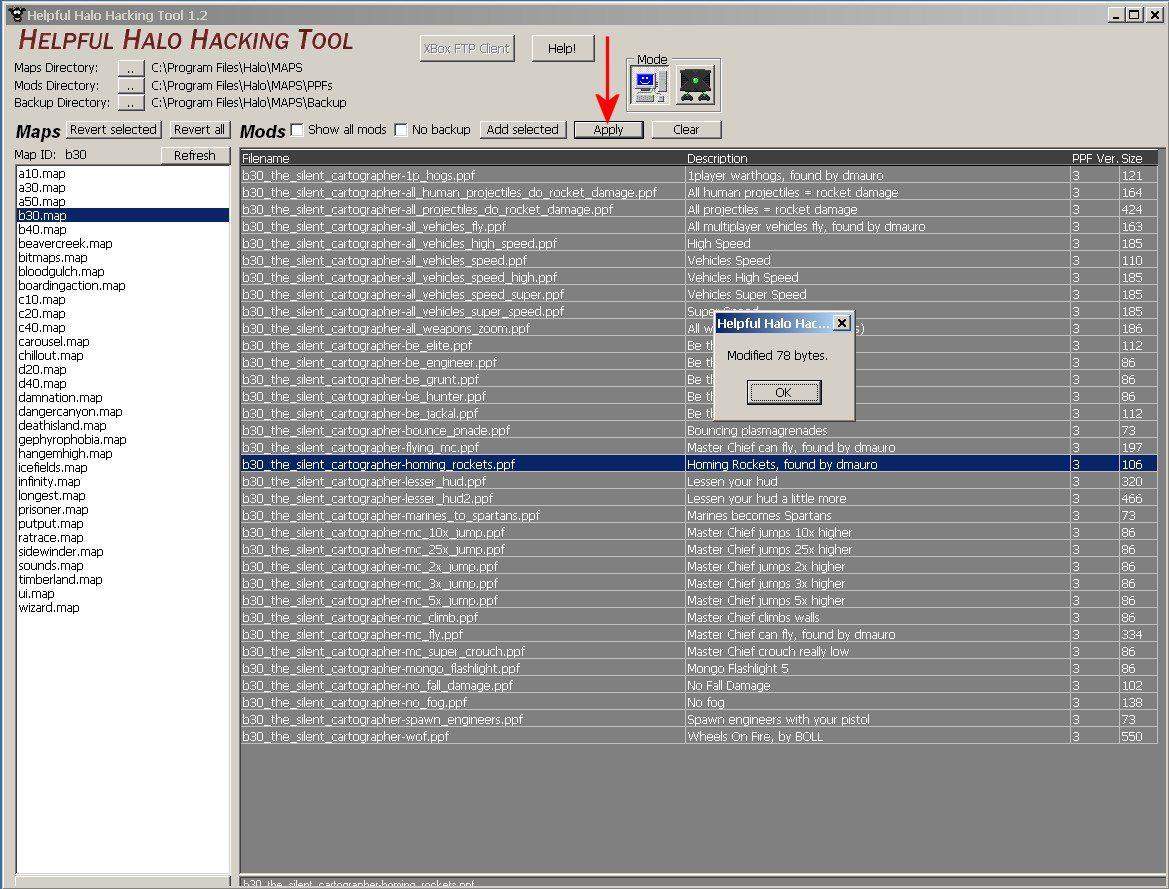 You will see this message above. There has been a backup made in the back up folder, by the name of b30.mapb.
(This tutorial was originally posted on the HBO Forum.)